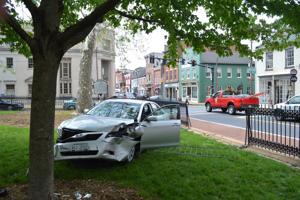 2 images
A car crashed through the front of the Loudoun Courthouse fence and into a tree Tuesday morning. There were no injuries and the official cause of the crash is currently unknown.
Car crashes through Loudoun courthouse fence -- again
Four months after a driver crashed into the Loudoun County Courthouse's front steps, another drove through the courthouse square fence and struck a tree today.
The driver of a Toyota sedan was driving eastbound on West Market Street this morning when she took a right turn onto North King Street. The car accelerated through the fenced-in area before slamming into a tree about 10 feet inside the courthouse lawn.

Law enforcement officers surrounded the area today just before noon, along with the woman who was driving the car and a passenger. They did not appear to be injured, and no pedestrians were injured.