This family was killed in a RUNAWAY LEXUS: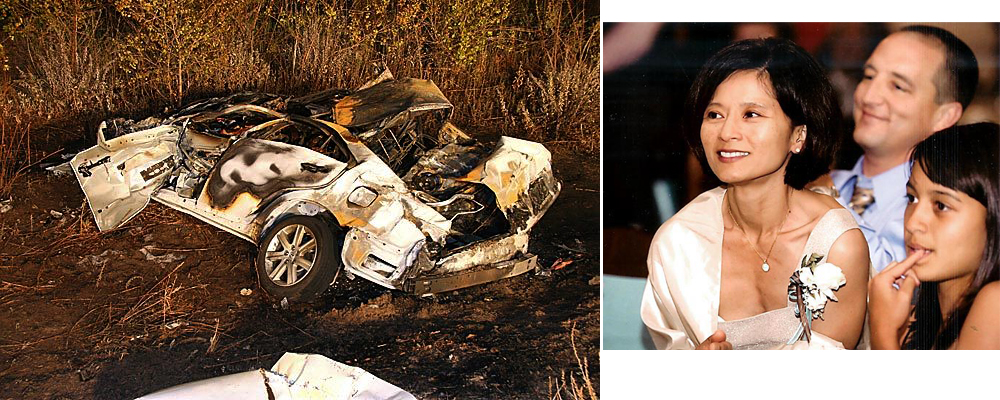 TOYOTA settled for $10 MILLION with a CONFIDENTIALITY AGREEMENT.
TOYOTA settled this SUDDEN UNINTENDED ACCELERATION case with a CONFIDENTIALITY AGREEMENT....you'll never know what the price of silence is worth to TOYOTA....
Koua Fong Lee was imprisoned because his RUNAWAY TOYOTA killed:
His story is here:
Claribel Nunez was injured by TAKATA AIRBAG SHRAPNEL:
Air Bag Lawsuits: S. Florida Woman Sues Takata Over Exploding Fragment That Injured Her Head
Hien Thi Tran was killed by TAKATA AIRBAG SHRAPNEL
: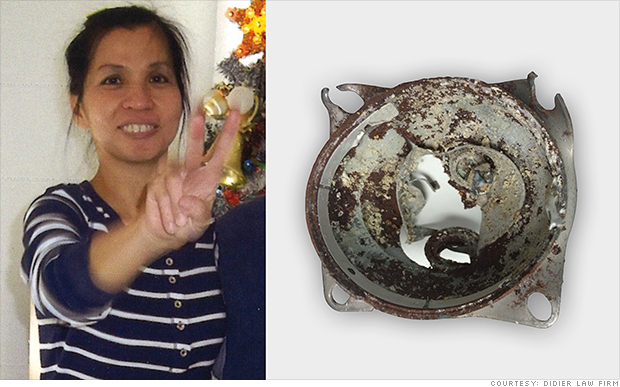 Takata airbag victims looked like they had been shot or stabbed
TRAFFIC SAFETY
Recalls reach unwanted record
Total of nearly 64 million vehicles exceeds three preceding years' total
By Christopher Jensen
The New York Times
Posted Feb. 17, 2015 @ 2:01 am
The auto industry recalled almost 64 million vehicles for safety problems last year, a record, according to figures released Thursday by the National Highway Traffic Safety Administration.
The number of recalled vehicles exceeded the total for the previous three years combined.
The agency and automakers faced intense scrutiny in 2014 and sometimes scorching criticism from Congress about whether safety defects were being investigated properly and vehicles recalled promptly.
Of the 803 vehicle recalls, 123 resulted from NHTSA investigations or contacts with automakers. The other 680 were initiated by the automakers after they discovered a problem and, as the law requires, reported it.
While the recalls last year covered a wide range of defects, two problems were most prominent, affecting millions of vehicles: faulty ignitions in General Motors cars, and flaws in Takata air bags that could send shards of metal into the passenger compartment.
An investigation last year by The New York Times of the NHTSA found that the agency had frequently been slow to identify problems, tentative to act and reluctant to employ its full legal powers against companies.
In a statement Thursday, Mark R. Rosekind, who was confirmed in December as the agency's administrator, said, "These figures demonstrate the need for vigorous, effective oversight to remove safety defects from our highways."
The agency said the 123 recalls it prompted resulted in the recall of 19.1 million vehicles. That was, the agency said, "the highest number of vehicles recalled due to NHTSA investigations and enforcement efforts" since 1981. But that was also the smallest number of recalls resulting from agency action since 2010. In 2013 the agency influenced 166 recalls, but that resulted in the recall of only 7.1 million vehicles because the problems affected fewer models.
The number of vehicles affected by a single recall can vary widely.
In a departure from its practice in previous years, NHTSA did not release the number of recalls by manufacturer. But General Motors accounted for almost 27 million of the recalled vehicles, the automaker said.
According to the automakers, Honda recalled about 8.9 million vehicles last year, Fiat Chrysler recalled about 8.8 million, Toyota recalled about 6 million and Ford recalled almost 4.9 million.
Automakers recalled almost 22 million vehicles in 2013 and about 16 million a year in 2011 and 2012.
The agency also said that almost 7.7 million seats designed to restrain children in an accident were recalled in 2014, the second-highest number since it began recording such actions in 1972.
Almost all of those child restraint seats were recalled as a result of pressure from the federal regulators on Graco Children's Products, which recalled about 6.1 million seats, and Evenflo Co., which recalled 1.6 million. The seats had the same problem, a bulky buckle that federal regulators worried could trap a child in a seat.
This highlights the failures of the Automotive Industry and NHTSA [dubbed: No Help To Solve Anything by Parris Boyd].
NHTSA has become little more than a revolving door for industry, lacks the expertise to examine many of the defects and has ignored complaints filed by vehicle owners.
NHTSA is grossly underfunded for the tasks with which it is charged, lacking the manpower and expertise.
While this isn't political, the GOP have vowed to shrink government to drown it in a bathtub. That means you are NOT protected!
The National Car Wash Association knows which vehicles experience SUDDEN UNINTENDED ACCELERATION. Consumers don't!
http://jessiepowell.blogspot.com/search/label/National%20Car%20Wash%20Association
Exploding Takata AIRBAGS kill! Where was NHTSA?
AIRBAGS fail to discharge in an accident or discharge while driving.
Where is NHTSA?
The Auto Industry can't get your vehicle to function uneventfully and they're gonna give you a driverless vehicle?
Do you trust them?
The lackeys in Congress has mostly remained silent with the exception of a few.
Please support those who have supported protecting consumers and spoken out against well-funded lobbyists.
JUST MY OPINION .... AT THE MOMENT!