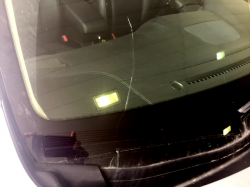 SUBARU CRACKED WINDSHIELDS CAUSE LAWSUIT
Subaru Legacy and Outback cracked windshields cause owners to file class-action lawsuit.
— A Subaru cracked windshield lawsuit alleges numerous Subaru owners and lessees have complained for years about Legacy and Outback windshields that chip, crack and fracture, followed by replacement windshields that do the same.
Those customers say their windshields fail for no reason at all, while other customers say the smallest impact to the glass will cause it to crack. Legacy and Outback owners claim they must replace the windshields numerous times, which does no good because Subaru allegedly uses defective replacement windshields.
The proposed class-action lawsuit includes consumers who purchased or leased 2015-2016 Subaru Legacy cars and Subaru Outback SUVs in the U.S.
Plaintiff Lucia Luong purchased a new 2015 Subaru Outback in February of 2015, a vehicle with "Eyesight Driver Assist Technology," a crash prevention feature which monitors traffic movement, optimizes cruise control and warns the driver if the vehicle sways out of its lane.
Thinking she was doing the right thing by purchasing a vehicle that would help with safety, Luong says a major safety hazard occurred when her windshield cracked from the center upward in March 2017, a crack that wasn't there before. Luong claims she was denied warranty coverage by the dealer to replace the windshield.
The plaintiff says the cracked windshields pose an extreme safety hazard to everyone and everything by blocking a driver's view and distracting everyone in the vehicle. The glass can dislodge and cause injuries to occupants and cause serious harm when the windshields won't hold in a crash.
The plaintiff claims Subaru has known about the windshield problems since at least 2014 and allegedly in 2015, Subaru extended the original New Car Limited Warranty of 3 years/36,000 miles to 5 years/unlimited miles for front windshield failures, for one replacement windshield to be provided under certain circumstances.
Some (but not all) Outback and Legacy owners and lessees were notified of the warranty extension by letter, leaving out thousands of affected consumers.
According to the plaintiff, when vehicles are brought in for repair, Subaru dealers search for an excuse to deny warranty coverage by claiming that an impact with the windshield caused the cracks or chips. Subaru also allegedly denies valid warranty claims and even when cracked windshields are replaced, the replacement windshields end up cracking and chipping.
Had owners and lessees known about the alleged windshield defects, they would not have purchased the vehicles or would have paid less for them.
Two 2015 Outback owners provide good examples when they say their windshields cracked all over the place, even windshields that are allegedly "enhanced."
"My windshield looks like a shattered mirror from a house of horrors. Never had a windshield crack in so many places." -

2015 Subaru Outback owner / Edmonton, Alberta, Canada
"This is my third windshield crack within 15 months of purchasing a new 2015 Subaru Outback. Subaru refused to replace the windshield free this time because they said the last replaced windshield was the "enhanced" windshield. Well, the enhanced windshield has exactly the same problem as the original. Any small ding in the deicer area will crack the windshield. but if the ding happens in other areas, the windshield won't crack." -

2015 Subaru Outback owner / Kingwood, Texas
Subaru has refused to recall the Outback and Legacy vehicles to fix the windshields and hasn't offered customers free replacements or suitable repairs, leaving customers the burden of fixing the cracked windshields, and causing this lawsuit.
The Subaru cracked windshield lawsuit was filed in the U.S. District Court for the Northern District of California, San Francisco Division - Lucia Luong, et. al., v. Subaru of America, Inc.
CarComplaints.com has owner-reported complaints about the Subaru cars and SUVs named in the windshield lawsuit.
https://www.carcomplaints.com/news/2017/subaru-cracked-windshields-lawsuit.shtml