This insincere phony baloney came to the U.S. pretending to correct TOYOTA'S PROBLEMS after TOYOTA LIED!
After losing the Oklahoma Case - Jean Bookout and Barbara Schwarz - jury threw the book at TOYOTA, TOYOTA rushed to settle with a CONFIDENTIALITY AGREEMENT, rushed to settle with DOJ.....
Barbara Schwarz, a passenger, called her husband BEFORE SHE DIED and told him JEAN COULDN'T STOP THE CAR!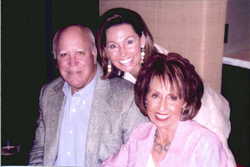 Barbara Schwarz was a nice lady, sorely missed by her family.
STRAIGHT FROM THE TOYOTA CORPORATE PLAYBOOK, TOYOTA BLAMED THE VICTIM!
TOYOTA couldn't explain the SKID MARKS Jean Bookout left as she attempted to STOP HER RUNAWAY TOYOTA!
AFTER TOYOTA'S DILLY, DALLY, DELAY, STALL & BILL 'EM TACTICS, now TOYOTA is rushing to settle more cases because they know JURIES ARE BECOMING LESS SYMPATHETIC!
TOYOTA, THE PUPPET MEISTER directed the DILLY DALLY DELAY STALL & BILL 'EM law firms to fulfill TOYOTA's DREAMS!
....
at the expense of TOYOTA'S VICTIMS!
Toyota Reaches 145 Unintended Acceleration Injury Settlements
According to a joint status report filed last week in California federal court,
Toyota Motor Corp.
has resolved more than half of nearly 250 individual unintended acceleration lawsuits that have been consolidated in multidistrict litigation (MDL) titled
In re: Toyota Motor Corp. Unintended Acceleration Marketing, Sales Practices and Products Liability Litigation.
The joint status report was filed by attorneys for both the plaintiffs and the defendants and was meant to update the presiding judge on the success of the Intensive Settlement Process (ISP). "The ISP is continuing to make good progress as the parties attempt to resolve the various personal injury, wrongful death and/or property damage cases pending before this Court and in other Courts," the joint status report says.
According to the joint status report,
109 of 168 cases pending
in the MDL have been resolved and
36 out of 78 unintended acceleration lawsuits
pending in coordinated state proceedings have been resolved. The participation rate is 91 percent, the parties say. Only 11 parties in the MDL and 11 in the coordinated state proceedings have not requested ISP.
This status update was filed less than a year after
Toyota
began to negotiate settlements
with hundreds of plaintiffs who had filed personal injury, property damage and wrongful death claims that allegedly stemmed from the
unintended acceleration defect.
Because each
Toyota unintended acceleration lawsuit is being negotiated individually
, the total value of the settlements will not be known until all of the cases have been resolved. The parties must first seek certification from the special master in the MDL after it is determined they complied with the requirements of the ISP.
The
Toyota unintended acceleration class action lawsuit was originally filed in 2010 by plaintiffs who alleged their Toyota vehicles would accelerate without warning due to defects in the electronic throttle control systems.
In 2009 and 2010, the auto maker recalled millions of vehicles that reportedly suffered from the unintended acceleration defect.
Toyota agreed to pay $1.1 billion to
settle economic loss claims
for Class Members who suffered depreciation due to the unintended acceleration defect. Despite some
objections
from Class Members, a federal judge
gave final approval
to the Toyota unintended acceleration settlement in July. However, this settlement only provided benefits for vehicle depreciation, not injury, property damage or wrongful death claims.
Under the terms of the Toyota economic loss class action settlement, the auto maker agreed to provide cash benefits to eligible Class Members as well as offer brake override installation for certain recalled vehicles.
The plaintiffs are represented by Lieff Cabraser Heimann & Bernstein LLP and Robinson Calcagnie Robinson Shapiro Davis Inc., among others.
The
Toyota Unintended Acceleration Class Action Lawsuit
is
In re: Toyota Motor Corp. Unintended Acceleration Marketing, Sales Practices and Products Liability Litigation,
Case No. 8:10-ml-02151, in the U.S. District Court for the Central District of California, Southern Division.
Parris Boyd
October 21, 2014
Coverup King and admitted-crook
Toyota
has been runnin' scared ever since it lost that landmark
unintended acceleration
case in Oklahoma last October, and is now being allowed to ignore compelling evidence of electronic defects presented at that trial. I've been blogging about the
"Toyota Way"
for quite some time – search
"Beware of Toyota. Their next victim may be YOU…"
Charlene Blake
October 21, 2014
Toyota is #1 in cases of sudden unintended acceleration
and FORD is #2. The current unintended acceleration plaguing newer vehicles is the electronically-induced type. The engine throttle control systems depend on computer software to command them. Sometimes glitches occur…like in some of your other electronic devices…which can cause the command to be different than what you desire.
The evidence of the glitch is often undetectable after the vehicle is restarted. Unfortunately, the EDR (black box) is not always accurate as shown by expert Dr. Antony Anderson in his analysis of a
2012 Toyota Highlander
. The EDR results indicated the driver was not braking when she was doing so. The EDR results are inconsistent.
The key to avoiding a horrific crash during a SUA event is whether or not the vehicle has an effective fail-safe in the event a glitch occurs. If it does not, as in the case of the glitch-prone Toyota ETCS-i, then the vehicle may become a runaway with an ineffective means to stop it. Unfortunately, the safety standards aren't as strict in automobiles as they are in airplanes. Some manufacturers have more effective fail-safes than others. In the case of Toyota, an embedded software expert, Michael Barr (see
Oklahoma Bookout vs. Toyota court case involving a 2005 Camry
) found that an electronic glitch could induce a SUA event. Another expert, Dr. Henning Leidecker, found that a SUA event could also be triggered by "tin whisker" formation, particularly in
2002-2006 Toyota Camry vehicles.
SUA events have been DEADLY for vehicle occupants as well as pedestrians and people in storefronts, buildings, and even homes. The numbers of such crashes are ever-increasing with the advent of the very complex ELECTRONIC throttle control systems.
With the increase in such serious vehicle crashes, there is a concerted effort to show driver "pedal misapplication" or a "medical condition" or some other reason for the incident…anything other than a vehicle defect. Investigators aren't scrutinizing the buggy electronic throttle control software or other conditions that can elicit a terrifying sudden unintended acceleration incident. They usually just examine the *mechanical* causes which tend to be just red herrings in these cases. Investigators simply don't have the expertise to find such electronic glitches. In fact, the staff at the NHTSA, National Highway Traffic Safety Administration, do not have this very specialized training!
Think of it…the next step in electronically-controlled vehicles seems to be so-called "self-driving cars." Do YOU want to be in a such a vehicle when there is no evidence that strict safety standards, particularly in the throttle control system's software, have been adhered to? Will you just BLINDLY trust the automaker (criminally-investigated and nearly-prosecuted Toyota and soon-to-be GM and others?) to come through for you and your family's safety *on its own*?
A recently published Huffington Post article by Jonathan Handel,
How Do We Know Driverless Cars Are Safe? Google Says 'Trust Us'
Posted: 07/01/2014 7:23 pm EDT Updated: 07/02/2014 1:48 pm EDT speaks to these very issues and poses tough questions about Google's "driverless" vehicles. Educate yourself carefully before you put your faith in automakers who have knowingly
lied to their customers and the government for decades
. Study the issue of vehicle electronic sudden unintended acceleration and ask WHY we aren't seeing it addressed publicly. WHY is blame placed on the driver with little more than speculation about which pedal was used or with little more than an assumption on medical condition. This is being done *even when the drivers steadfastly cite a VEHICLE PROBLEM as the cause of the crash. Absence of proof is not proof of absence of a serious ELECTRONIC computer glitch or other electronically-caused SUA.