This was a tragic accident, condolences to the family!
Without knowing the Model and Year of the Mercedes, it's impossible to know if the initial assessment is accurate.
Crash kills former Attleboro mayor
4 others injured in crash
UPDATED

5:42 AM EDT Aug 11, 2015
Officials in Massachusetts say a former mayor of Attleboro was killed after her car slammed into the back of a bus.
Officials say 78-year-old Judith Robbins was driving her car on Route 1 in North Attleborough Monday afternoon when it hit the rear of a regional bus.
Responders performed CPR on Robbins at the scene, and she was brought to Sturdy Memorial Hospital in Attleboro where she was pronounced dead.
North Attleborough Fire Chief Ted Joubert says a medical condition is believed to be the cause of death.
Joubert says the bus had eight to 10 passengers on board at the time of the crash. Five were taken to the hospital with minor injuries.
Robbins served as mayor for 12 years, leaving office in 2003
http://www.wcvb.com/news/1-critical-5-injured-after-crash-involving-bus/34638578
Former mayor killed in North Attleboro crash
NORTH ATTLEBORO, Mass. (WPRI) — Six people were transported to the hospital, including one in critical condition, following a crash in North Attleboro Monday afternoon, the town's fire department confirms.
An elderly woman was driving southbound on Route 1 around 2 p.m. when she rear-ended a parked bus, according to North Attleboro Fire Chief Ted Joubert.
A spokesperson for the department confirmed Monday evening that she had died. She has been identified as former Attleboro Mayor Judith Robbins, according to the Mayor's office.
Robbins is remembered as a smart, tough woman – utterly committed to her city. She was 78.
"There is a huge void that is left here in the city tonight," said Attleboro Mayor Kevin Dumas.
Authorities said it appeared as though the bus was stopped to let people on and off when the car hit it at a "pretty good rate of speed." He said there were no skid marks or signs that Robbins attempted to stop.
Joubert said Robbins may have suffered a medical emergency prior to the crash. A Good Samaritan stopped to assist a police officer with administering CPR until rescue crews arrived.
According to her colleagues, Robbins had a storied career that spanned throughout the decades.
"Back in 1968. The city's planning board… then served on the charter commission… then 16 years on the city council… and then followed by 12 years as mayor," said Dumas.
"A natural born leader. Attleboro was so lucky to have her. Her leadership was one of such strength, and then on the other side, such softness," added Richard Conti of the Attleboro Municipal Council. "I have never seen anyone like her. She's my idol and mentor. If I could only be her — and give what she gave — I'd be very happy with my life."
Unitl her sudden death, Robbins served as the head of the Attleboro Redevelopment Authority. Once millions of dollars in the red, she guided it to solvency.
"She would dig into something. And if she was committed — she was all in," Dumas said.
Robbins was taken to Rhode Island Hospital following the accident, where she was pronounced dead. She leaves behind a husband, two children and grandchildren.
Five people from the bus were also transported to be treated for minor injuries.
The crash remains under investigation.
VIDEO ON LINK
http://wpri.com/2015/08/10/several-hurt-one-critically-in-north-attleboro-crash/
Former Attleboro Mayor Judith Robbins killed, four others injured in Route 1 car-bus crash in North Attleboro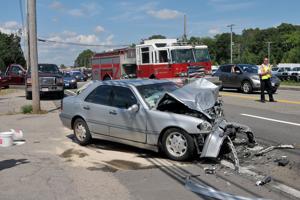 The wreckage of a car that hit the rear of a GATRA bus Monday afternoon on Route 1 in North Attleboro. (Staff photo by Mark Stockwell)
Posted:

Monday, August 10, 2015 3:48 pm

|

Updated: 12:18 am, Tue Aug 11, 2015.
NORTH ATTLEBORO

— Former Attleboro Mayor Judith Robbins was killed Monday when her car struck a parked GATRA bus on Route 1 in an accident that also injured four others.
Witnesses said CPR was performed on Robbins when she was taken out of her Mercedes Benz near the Pineapple Inn motel, but she died.
North Attleboro Fire Chief Ted Joubert said she might have suffered a "medical event" before the crash because there were no skid marks indicating an attempt to stop the car.
Four passengers on the bus were taken by ambulance to Sturdy Memorial Hospital in Attleboro.
Robbins, 78, of 20 Ashton Road in Attleboro, had served 12 years as mayor and many more as city council president, and a member of the planning board and charter commission.
Her most recent appointment was chairwoman of the Attleboro Redevelopment Authority.
"Judy had an amazingly long history with the city. She shared her gifts and talents with all of us," Mayor Kevin Dumas said.
"She was so bright, and so educated and so dedicated to the city."
The accident occurred shortly after 2 p.m.
The bus was stopped in the right southbound lane at the time after letting off a passenger.
Daniel Astrofsky, a resident of the Pineapple Inn, helped a police officer and passersby remove Robbins from the Mercedes.
Astrofsky said she didn't appear to be breathing.
"I was standing outside with some people when the bus came by and I lost sight of it behind some trees," he said. "Then I heard a slam and ran to see what happened."
He said a husband and wife in a red pickup truck stopped on the highway and helped him and a police officer who arrived on the scene. He said the police officer immediately began cardio pulmonary resuscitation.
"He didn't waste any time starting to work on her," he said.
He said the injuries looked serious.
"Looking at her, you could just tell," he said.
Officers Keith McPhee and Craig Jones were the first to reach Robbins.
Nicholas Lake, 18, of North Attleboro, said he was riding the bus on his way to work at Emerald Square mall, when he felt the impact of the crash. He said he was thrown forward and bumped his head, but was not seriously injured.
Lake said he saw rescue personnel administering CPR to the driver of the Mercedes.
Martin Martinez, 27, was on his way to work at Target when he said he felt a "hard impact" when the bus was hit from behind. He was not seriously injured.
Four ambulances, including those from Attleboro and Plainville, responded to the scene.
Members of the State Police Accident Reconstruction Team were called to the scene to investigate.
The silver grey Mercedes came to rest just to the rear of the bus, its windshield and front end smashed. According to witnesses on the scene, the vehicle's passenger side air bag deployed in the crash but the driver's side air bag did not.
Joubert said the North Attleboro ambulance, which was at Sturdy Memorial Hospital in Attleboro at the time of the crash, took about seven minutes to arrive on the scene. Attleboro and Plainville rescue units were the first to arrive.
http://www.thesunchronicle.com/breaking_news/former-attleboro-mayor-judith-robbins-killed-four-others-injured-in/article_38ccad46-3f95-11e5-9252-b3fc83cee9f7.html