However unwittingly, Toyota has revealed Japan's bigoted and insular culture, as well as Japan's questionable judicial system.
Although the FACTS are unclear, it does appear that a compliant Japanese media genuflected to the police retaliation to convict in the press.
One must wonder if Julie Hamp was set up by an insular society offended by a woman in a top position or was it an American woman in a top position?
It is doubly distressing that the US Corporate Media has ignored the issue.
Prison Ordeal Offers Lesson on Declaring Meds in Japan
Stephen Stapczynski
July 6, 2015
Three weeks ago, Julie Hamp was Toyota Motor Corp.'s highest-ranking female executive. Her days now likely consist of 6:30 a.m. wake-up calls followed by hours of questioning by Japanese police.
Hamp, 55, who
resigned
as Toyota's communications officer last week from a Japanese jail, has been detained since her June 18 arrest for allegedly importing prescription painkillers that require prior approval before being brought into Japan. Prosecutors will decide on July 8 whether Hamp, who hasn't been formally charged, is to be indicted.
Her experience, and that of others like 26-year-old Carrie Russell, an English teacher
held
for 18 days in February for possessing prescription drugs sent from the U.S., offers a warning to visitors: Japan has tough laws for possession of prescription drugs, even when those medications may have been recommended by doctors abroad.
"When you get medicine from your physician, you assume it's OK to bring it with you," said Russell, who's been taking medication for attention deficit disorder since she was 10. "I was completely wrong," she said in a phone interview from Oregon.
Tokyo metropolitan police arrested Hamp of Toyota Motor on suspicion that she had imported the pain medication oxycodone. Hamp had her father send 57 tablets containing oxycodone to a Tokyo hotel where she was staying, according to Kyodo News, citing a Tokyo police representative.
A spokeswoman at the Tokyo Prosecutor's Office, who asked not to be named citing department policy, declined to comment on Hamp and Russell's cases. Hamp's attorney and family members in the U.S. couldn't be reached to comment.
23-Day Detentions
Oxycodone is a pain reliever used to treat moderate to severe pain and can be obtained in the U.S. with a prescription.
Under Japan's criminal laws, police can detain suspects for 23 days without charge. During that period, police will interrogate those suspected of drug-related offenses for as long as six hours a day, according to Hirotaka Honda, a Tokyo-based attorney at the Honda Law Office who represents foreigners involved in criminal and domestic disputes involving the police.
"Detainees can be interrogated whenever the police think it is necessary," said Honda. "And while getting investigated, they cannot be with their lawyer."
Russell's ordeal started Feb. 20 when she said she was approached by five plainclothes police officers with her photo in hand while she dined with a friend at a Tokyo pub. One of the officers asked if she had any amphetamines. Russell, who initially had no idea what they were talking about, said no. Even so, she was handcuffed and placed into the back seat of an unmarked van for a five-hour drive west to Nagoya, her home since arriving in Japan.
Drug Cases
Japan, a nation of 127 million, charged 13,121 individuals with drug-related crimes last year, the most in a decade, according to the National Police Agency. About 6 percent, or 778 individuals, were foreigners, the agency said. More than 80 percent of the crimes involved methamphetamines.
The same year, cases of drug smuggling rose 11 percent to 245, according to police data.
"The Japanese police agency is getting more and more strict with drug cases recently," said Hiroaki Okamoto, an attorney at Nakamura International Criminal Defense LPC in Tokyo.
Every day during her detention, Russell woke at 6:30 a.m., ate breakfast, and performed morning chores. She would then be escorted into a room from 10 a.m. or 11 a.m. to be questioned until 5 p.m., she said.
'Get Me to Break'
"It was literally them asking me the same thing over and over again," said Russell, who said she was the only foreigner in the detention center. The police were "trying to get me to break and say something that didn't happen or was suspicious. But there was nothing for me to break on."
After her interrogations, Russell had free time to read a book until lights out. The questioning would start again the next day, she said.
A spokesman with the Tokyo Metropolitan Police Department declined to comment on the Russell case.
Before moving to Tokyo, Russell taught English in South Korea. Her mother, a physician, had sent her packages, including adderall, a pharmaceutical amphetamine used to treat ADD, which was never opened.
Russell mailed her belongings, including the drugs, from Seoul to Nagoya when she got a new job in Japan, unaware of the rule that users need advance permission before bringing certain drugs into the country.
The English teacher was released after 18 days of detention only when U.S. Ambassador Caroline Kennedy made a personal appeal. She decided to return to the U.S. after her release.
Smuggling Charges
On its website, the U.S. embassy
warns
citizens to check before mailing or carrying medication to Japan, or face arrest and detention.
A spokesman at the U.S. embassy in Tokyo, who asked not to be named, declined to comment specifically on the case involving Hamp, the former Toyota Motor executive.
Toyota President Akio Toyoda told reporters on June 19 that he's confident Hamp didn't intentionally break the law, describing her as "a very important and trustworthy friend and colleague."
If prosecutors decide to indict Hamp on July 8, her stint in the detention center could be longer, according to Okamoto.
"She's a foreigner and she doesn't have her family living in Japan. Also, she doesn't seem to have admitted to illegally importing the drugs with intention," said Okamoto. "With all those conditions, it will be very difficult to have her released."
Okamoto said that if found guilty, Hamp could face 2 1/2 years imprisonment with a two-year suspension. Even with a suspended sentence, foreigners found guilty in drug cases will be deported, he said.
"Bail is the exception rather than the rule in Japan and is virtually unheard of for foreigners," according to the website of the U.S. Embassy. "If you are arrested in Japan you will in all likelihood remain in jail until you are indicted or released."
http://www.bloomberg.com/news/articles/2015-07-06/prison-ordeal-offers-lesson-on-declaring-meds-in-japan
Julie Hamp: Power List 2015
Former managing officer and CCO, Toyota Motor Corp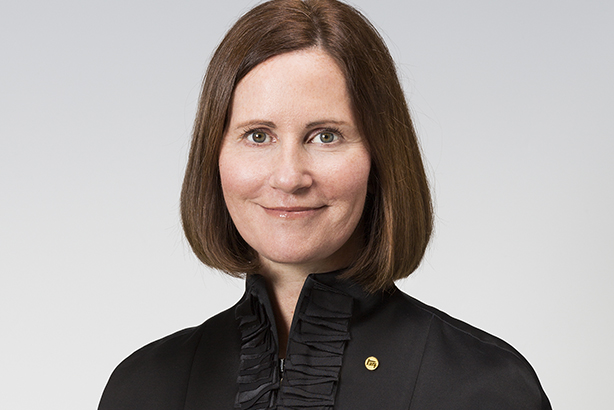 The Power List 2015 was compiled before Julie Hamp resigned as Toyota's global communications leader on Wednesday morning after being arrested last month for allegedly violating Japanese drug laws.
2015 rank: 10
2014 rank: 25
By Tony Cervone, SVP, global communications, General Motors
Over the course of her career, Julie Hamp has raised the bar for her profession over and over again.

She continues to set new heights and break down barriers, now as managing officer and CCO for Toyota Motor Corp. Yes, that's right, Toyota globally. At its main headquarters in Japan.


She is not only the first female in that job, and the first American, but she is also the first person in that seat with a truly global background. While I don't want to diminish the first two – they are real and to be rightly proud of – it's the latter that will drive her continued success.


Anyone who knows Julie understands she measures herself on the ability to succeed into the future, not celebrating milestones. Her career has taken her across the globe, and to different industries, but predominantly automotive.

She leads people, driving for new levels of performance, but letting them do their jobs and continue to learn. Julie finds talented people, then nurtures them, and grows with them. She understands the role of solid counsel, but in a way that isn't offensive or threatening to senior leaders.

Julie understands the need for consistency, but allows it to be expressed naturally and authentically, with special sensitivity to cultural nuances. She understands discipline, but doesn't drive bureaucracy. In short, Julie provides a great balance. And she fully deserves to be "the first" in so many ways.
http://www.prweek.com/article/1353836/julie-hamp-power-list-2015#disqus_thread
Media insiders snickered at the timing of Julie Hamp — the former Toyota Motor chief communications officer
arrested in Japan
for allegedly importing prescription painkillers — being named this week to PRWeek's Power List of top 50 executives.
Hamp, ranked No. 10, stepped down from her position on Wednesday, the day the list was published, after she was busted June 18 for suspicion of violating Japan's strict drug laws. Officials found 57 oxycodone pills in a package Hamp shipped to herself from the US.
The powerful painkiller can only be imported with special permission.
Hamp, Toyota's highest female executive, is being held in jail, but has yet to be charged. She could face up to 10 years in prison.
The magazine's
glowing piece on Hamp read
, "She continues to set new heights and break down barriers . . . at [Toyota's] main headquarters in Japan."
Now it's added a note online explaining that her arrest came after the print deadline.
Editor-in-Chief Steve Barrett told us: "She's achieved a top level of seniority in an industry that's dominated by males . . . One error of judgment doesn't destroy 35 years of expertise."
Dan Bartlett, Walmart EVP for corporate affairs, came in at No. 1 on the PR Power List.
http://pagesix.com/2015/07/02/painfully-timed-pr-award-for-toyota-exec-busted-for-oxycodone/
.....one can cite FACTS and FIGURES till you're blue in the face and yet no one will listen to the information or pay attention the story you're attempting to tell. But have a GOOD SCANDAL involved, and suddenly EVERYONE PAYS ATTENTION. Is this one of these cases?
************
**************
Could Hamp's detention reinforce prejudice?
-------------------------------------------------------------
トヨタ役員逮捕「オキシコドン」報道に対する米国での反応
投稿日: 2015年07月03日 15時27分 JST 更新: 2015年07月03日 15時27分 JST
----------------------------------------------
(Google Translate)
The reaction in the United States
against Toyota officers arrested
Posted: July 3, 2015 15:27 JST
Update: July 3, 2015 15:27 JST
---------------------------------------------
(Comments):
Taro Yamada
Hmmm, what would you do? For me as an argument?
1. oxycodone is classified as medical drugs called opioid analgesics, relieve pain.
↓
2. oxycodone average consumption in Japan (mg) is very small when compared to other developed countries
↓
3. Morphine also, very little consumption and also compared to other industrialized countries in Japan of the opioid analgesics. However, this does not mean more is by far also the United States of consumption.
↓
4. In any case, Japan is the use of medical drugs as compared to the developed countries of Europe and the US, is the extremely small. This Conversely, Japan is said to be very late, even as legally and health care system in terms of pain management. ... See more
I say! · Reply · 6 hours ago
Ichikawa Hiromi · DaVita Kidney Care registered nurses
I one of the impression of the United States health care with the things of "analgesic generous" will be listed.
Of course narcotic analgesic in the United States has a different treatment with other drugs. But,
I drink drug if after simple Ope of day 800㎎ / 1 dose Eve (in commercially available drug 150㎎ / single dose) and 100 tablets of prescription, but still does not work in the United States. Once, it the number 20-30 is very common in doctor prescribe.
I was also caused a mild culture shock is prescription drugs even after treatment of a tooth.
Personally a little too much! I hope that it will be.
But the United States is the configuration of the population also be multinational,
Because the pain to the idea of ​​different allowable range in individual culture and background, it is not the judgment that "it is possible to put up with if this extent." At the discretion of the health care workers.
That is, medical personnel patient "this degree of pain is white patience."
Remarks are there atmosphere that can not be. ... See more
I say! · Reply, 1, 8 hours ago
Moriya knowledge-work destination: freedom industry
By the way, there is a Toyota Memorial Hospital in the neighborhood of the Toyota headquarters. This is where a little can visit and come out the work. Or people of this person Tokyo headquarters?
I say! - Reply 8 hours ago
Ishizuka Shoichi
According to the health care system of Japan, I supposed there was no problem if Could wrote a prescription and seek medical attention. I think that Mr. hump has tried to get the easy neglected its efforts with a problem. Blogger said, I have to say that of Atehamero the TPP negotiations parallel the standards of the US health care system in Japan, do you want to Japan to drug pollution superpower of the United States the same level? It will not a thing may be as it is mimicking the US way.
I say! · Reply · 2 · 9 hours ago
Naotaka-office Igarashi: Ginza tricolor
Or say that it ignores the place of the essential, do not the issue. The suspect Buy oxycodone take a prescription in the United States in his father name, I think that it has been reported import hidden in the bottom of the bag or something, and. It is not impossible in the state of directors far from the company that represents Japan and if the state to use this medicine in cancer pain, received it only irresponsible even (since it comes to state you do not know when to die). If not, why legally prescribed, and what was it a really sent to the way like that smuggling does not send over the proceedings. It is funny.
Also it is not in even as much as narcotic analgesics called weak opioid domestic but there are several powerful analgesics also. You might properly be used doctor less.
By the way, if you use a narcotic analgesics for pain relief, such as cancer pain, drug action, addiction does not occur, it is common sense of relaxation therapy is that. In the case of oral administration, side effects, such as death does not happen basically. The United States has caused the drug is rampant problem in that sense, we can say even that too much inappropriate. There is no need to import up to bad things.
I say! · Reply · 3 · 17 hours ago
Moriya knowledge-work destination: freedom industry
This suspect before you send for the oxycodone, what I had seen in the Japanese medical institutions?
I say! · Reply · 2 · 19 hours ago
Junji Yamamoto
Such that there is no relationship at all! !
I say! · Reply · 5 hours ago
Watanabe Toru Hachioji, Tokyo
In, what you want to say? Hide~e the sentence and Chimau configuration force 哄~Tsu
I say! · Reply · 3 · 19 hours ago
Sakamoto Hideo
Something, late Edo period, Edo of namamugi incident, such as day-to-day common sense sense of repetition like a and incidents feeling's Na ... really habit tradition of is different is major cause of ···> o <
I say! · Reply · 2 · 19 hours ago