Rehoboth couple says Toyota malfunction almost left them dead
Citing defective equipment, local couple appeals crash surcharge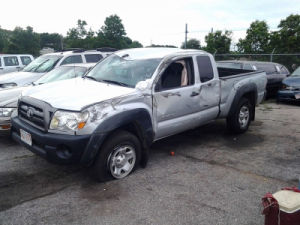 Biello Toyota Case
John and Diane Biello were injured when their Toyota Tacoma rolled over after an unanticipated acceleration caused it to speed up as they were entering an offramp. Below, the Biellos pour over paperwork pertaining to a surcharge from their insurance company as a result of the crash.
Posted: Tuesday, February 18, 2014
BY RICK FOSTER SUN CHRONICLE STAFF
The Sun Chronicle
REHOBOTH
- John Biello was horrified last June when his Toyota Tacoma pickup suddenly began to speed out of control while exiting Interstate 95 in Attleboro.
Biello, 72, said he was southbound approaching exit 2 in Attleboro with his wife Diane in the passenger seat when he flicked a lever to turn off the vehicle's cruise control. The vehicle would not slow down and accelerated instead. He said he pressed on the brake only to find that it had little to no effect.
As the four-wheel drive truck began to barrel down the curved offramp, Biello remembered reading about Toyota owners' complaints of vehicles accelerating on their own back in 2009-2010. He threw the truck's transmission into neutral, but not in time to stop the pickup from striking the curb and flipping on its side before landing upright on its wheels. The truck came to rest in the adjoining onramp facing oncoming traffic.
"It's only lucky the car coming in the opposite direction had time to stop," said Biello who along with his wife suffered only minor injuries. "We could have been killed."
The pickup, its sides and roof dented and windshield smashed, was written off as a total loss by the insurance company.
The Biellos had read about unintended acceleration - a phenomenon that reportedly caused Toyota and other vehicles to take off on their own - but never thought it would happen to them.
"I thought that was all in the past," he said.
From 2009-2010, Toyota recalled millions of its vehicles because of sensational reports they suddenly began accelerating on their own without input from drivers. The company denied there was any problem with its electronic throttle control system and pointed to sticking accelerator pedals, out of position or ill-fitting floor mats or driver mistakes instead.
The federal government backed Toyota's claim that its electronic throttle control called "ETCS-i" was not to blame based on an exhaustive, 10-month investigation by the National Highway Traffic Safety Administration and NASA. While the NASA study did not flatly rule out the possibility that Toyota's electronics could have caused unintended acceleration, the report concluded it was not likely the systems caused the kind of surging incidents described in consumer complaints.
The Biellos reported their incident to Toyota as well as the NHTSA. Toyota inspected their vehicle, but wrote the Biellos back a letter saying its technician could find nothing wrong.
The couple next got some unwelcome news from the state: Because of the accident, a substantial surcharge would be applied to their car insurance bill. The Biellos appealed the surcharge and hope to receive a ruling within the next month.
The Biellos believe it was a defect in their Toyota, not John's driving, that was responsible for their crash and set out to prove it.
The couple was assisted in gathering information for their appeal by Sean Kane, founder of Safety Research and Strategies.

Kane has been a vocal critic of Toyota who testified before Congress on unintended acceleration.
Biello, a former Food and Drug Administration investigator with a good driving record, said he was not given a traffic citation for the accident and that a state police accident report listed the cause of the crash as defective equipment.
Instead, he strongly suspects a problem with the vehicle's cruise control system which has been alleged by Toyota owners in the past. Despite that record, Biello says he's never received a recall notice to repair an electronic fault in his vehicle.
"I'm appalled," Biello said.
"Toyota has known about this problem for a long time, but they haven't done anything about it."
Toyota, which has consistently denied that its electronic systems are to blame for unintended acceleration, announced in December that it would begin negotiations to settle a large number of pending lawsuits. The decision followed a verdict by an Oklahoma jury in October concluding that the electronic throttle system in a Toyota Camry was defective.
The Japanese automaker previously agreed to a settlement of more than $1 billion for economic losses alleged by Toyota owners as a result of previous recalls.
The Wall Street Journal reported last week, based on anonymous sources, that Toyota is weighing a possible $1 billion settlement of a criminal investigation into the company's reporting of potential safety problems.
The Biellos aren't the only Tacoma owners reporting problems with their vehicles suddenly accelerating.
According to The Sun Chronicle's check of the National Highway Traffic Safety Administration's public consumer complaint database, 52 complaints involving vehicle speed control issues were reported in the 2009 model alone.
Many, but not all, described instances in which the vehicle is reported to have suddenly surged forward or accelerated. Some involved crashes.
A further check revealed that just
over 400 consumer complaints
have been filed over alleged problems with cruise control on 2002-2013 Toyota and Lexus vehicles. Those reports included experiences similar to the Biellos' in which vehicles allegedly accelerated when drivers attempted to disengage cruise control.
Complaints registered with NHTSA do not by themselves constitute proof of a fault in any vehicle.
But courts continue to hear lawsuits alleging that unintended acceleration in Toyota vehicles caused accidents that led to severe injuries and deaths.
In January 2013, Toyota settled an unintended acceleration case brought by the family of Paul Van Alfen and Charlene Jones Lloyd, who were killed when their Toyota Camry slammed into a wall in Utah in 2010.
http://www.standard.net/topics/accident/2010/11/15/faulty-gas-pedal-blamed-toyota-wreck
Toyota continues to insist that its electronic speed control systems are not responsible.
"I would like to reaffirm Toyota's confidence that our electronic throttle control systems are safe, well-designed, thoroughly tested and robust," wrote Cindy Knight, Toyota Motor Sales public affairs manager in an email. "Since it was first introduced, Toyota has sold more than 40 million cars and trucks featuring its version of an electronic throttle control system called ETCS-i, and we remain confident that it is not a cause of unintended acceleration."
Knight wrote that the system used in company's Toyota and Lexus vehicles feature multiple failsafes and that the throttle control mechanism "has been subjected to comprehensive testing over more than a decade without a single unintended acceleration event."
Toyota executives also point to studies by the National Highway Traffic Safety Commission, NASA and the national Academy of Sciences that did not find faults in the electronic controls.
Consumer advocates aren't satisfied.
"Clearly you have situations where it's the vehicle that's defective and not the driver," said Clarence Ditlow, executive director of the Center for Auto Safety, founded in 1970 by Ralph Nader. But since unintended acceleration is relatively rare and occurs at random times, he said, isolating a specific cause can be difficult.
Settlements have not quieted allegations of potentially deadly defects in Toyota vehicles.
In the Van Alfen case, it was alleged that Paul Van Alfen was driving the Camry on Interstate 80 in Utah in November 2010, when it suddenly accelerated. The car reportedly left skid marks, went through a stop sign and then an intersection before hitting the wall.
Van Alfen and Lloyd, his son's fiancee, were killed. According to news reports the Utah Highway Patrol concluded based on statements from witnesses and the crash survivors that the gas pedal was stuck.
Last October, a Jury found Toyota liable in a 2007 case in which a 2005 Camry driven by 82-year-old Jean Bookout suddenly accelerated, ran through an intersection and slammed into an embankment in Oklahoma. A passenger in the car was killed. The jury awarded $3 million in that case and Toyota settled.
http://businessethicscases.blogspot.com/2014/02/toyota-acceleration-concerns-decelerate_6627.html
During the trial the Camry's electronic systems came under withering criticism from embedded software expert and electrical engineer Michael Barr.
Barr, who along with a team of experts spent 18 months examining closely guarded source codes
for the Camry and other Toyota vehicles, testified that Toyota's codes were unnecessarily complex, that fail safe mechanisms were inadequate and that the electronic control module could cause a vehicle to accelerate suddenly.
According to the trial transcript, Barr also testified that electronic defects could cause unintended acceleration when a driver attempts to disengage the cruise control.
Despite testimony in the Bookout trial, the automotive press has, with rare exception, backed Toyota's contention that its electronic systems are reliable and safe based on the earlier investigation by multiple federal agencies.
Toyota explained its decision to settle the case this way:
"While we strongly disagree with the verdict, we are satisfied that the parties reached a mutually acceptable agreement to settle this case. We remain committed to providing our customers with safe and reliable vehicles, and we will continue to defend our products vigorously at trial in other legal venues."
TOYOTA couldn't explain 150 FEET OF SKID MARKS!
Regardless of the verdict, auto industry analysts say Toyota could suffer consequences from lingering memories of its unintended acceleration problems and other more recent defects, settlements and recalls, including a recent recall involving Prius models for problems involving the cars' embedded software.
"For a long time, Toyota has enjoyed a good reputation for reliability and quality," said Alec Gutierrez, a senior analyst for Kelly Blue Book. "But now they're facing more competition from Honda and Hyundai and American manufacturers like Chevy and Ford are making better cars than they ever have before. Things like this could make it tougher for Toyota down the road."
And that would be perfectly fine with John Biello.
"I advise people not to buy Toyotas," Biello said. "The whole thing shocked me and I don't shock easily - that it has been going on long enough so that people have to know and it continues. But Toyota keeps it quiet and they beat people down. They've gotten away with this."
http://www.thesunchronicle.com/news/local_news/rehoboth-couple-say-toyota-malfunction-almost-left-them-dead/article_cca433ef-051a-58a3-be99-69ff6b4a0b65.html