TOYOTA = dead stop
Other vehicle strikes
TOYOTA ACCELERATES......
where have we heard that before?.......
SUV crashed into Little Caesar's in Humboldt Park
CHICAGO (Sun-Times Media Wire) -
A woman was injured early Friday when another car crashed into hers in the Humboldt Park neighborhood, causing her car to spin out and crash into a Little Caesar's pizza restaurant.
A
Toyota
was stopped at a red light
at the 3300 block of West North Avenue about 2:30 a.m. when a Suzuki collided with it, police said.
The impact of the crash caused the Toyota to spin around and crash into the Little Caesar's,
News Affairs Officer Jose Estrada said.
The
56-year-old driver of the Toyota
was taken to Mount Sinai Hospital, where she was treated and released, Estrada said.
The 22-year-old driver of the
Suzuki
, Louis J. Griggs of the 100 block of N. Hamlin, was cited for driving too fast for conditions, Estrada said.
http://www.myfoxchicago.com/story/19863996/suv-crashed-into-little-ceasars-in-humboldt-park
This nice lady was Noriko Uno....
This is Noriko Uno's loving family and they miss her.....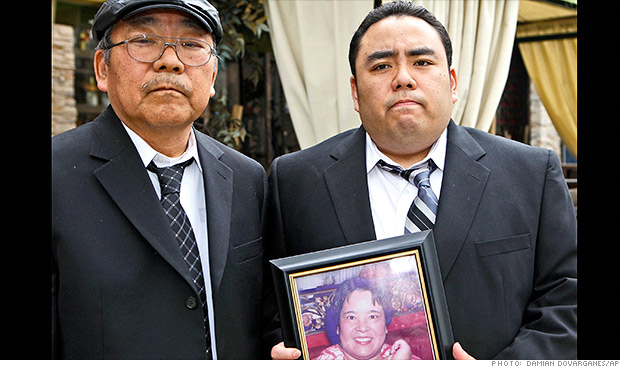 When Noriko Uno's TOYOTA was struck by another vehicle....it accelerated....witnesses reported seeing BRAKE LIGHTS.....her TOYOTA couldn't be STOPPED.....
Noriko Uno's last minutes alive were filled with the TERROR OF A RUNAWAY TOYOTA!
This little charmer is 4-year-old Lily Quintus.....
Lily was playing at her Day Care when this OUT-OF-CONTROL TOYOTA SOLARA was struck by another vehicle, became airborne and couldn't be stopped....
These folks are measuring SKID MARKS....the TOYOTA SOLARA driver attempted to stop the vehicle....
JUST MY OPINION.....AT THE MOMENT