At the bottom of the page is an interview with Michael Barr, from EETimes.
The most significant quote --
System safety can't be an afterthought, Barr insists. It must be designed from the very beginning into a system.
Anyone who has read the accounts of TOYOTA SUDDEN UNINTENDED ACCELERATION crashes, has to wonder where TOYOTA placed

SAFETY

.
The TOYOTA below belonged to John and Diane Biello of Rehoboth, Massachusetts, written about here:
"I advise people not to buy Toyotas,"....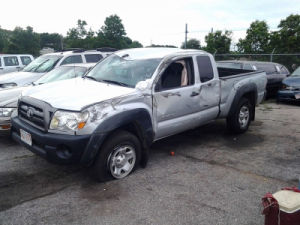 For some additional information:
Problems With The World's Largest Automobile Manufacturer
Toyota Defects Only Result in a Fine of $16 Million
Michael Barr at ESC/EE Live!: Toyota underestimated risk ...
Beware of Toyota. Their next victim may be YOU...
Toyota's killer firmware: Bad design and its consequences ...
[CLICK ON LINK FOR VIDEO]
Michael Barr hates driving. He said that self-driving cars are the sort of progress he looks forward to. But he quickly adds, with a nervous laugh: "They also make me nervous."
Rightly so.
Barr, an embedded software expert and co-founder and CTO of the Barr Group, led the team of engineers who found the software defects that are blamed for incidents of sudden unintended acceleration (SUA) in Toyota cars.
Automotive safety -- and embedded software safety -- is near and dear to Barr's heart.
While embedded software grows exponentially bigger and its complexity increases rapidly, there isn't a simple quick fix to make systems safer, Barr explained at EE Live! during
his keynote speech
, entitled "
Killer Apps: Embedded Software's Greatest Hit Jobs
."
Barr advises designers of safety-critical systems to not assume that testing can reliably prove absence of bugs or gaps in fail-safes. Conventional testing has proven undependable in spotting low-probability problems, "random events in the electronics, bugs latent in the software and unforeseen gaps through fail-safes."
System safety can't be an afterthought, Barr insists. It must be designed from the very beginning into a system.
Further, he says that "more sunshine" is needed for "informed oversight" and "code confidentiality."
Below is EE Times' interview with Barr. We caught up with him right after his keynote speech.
http://www.eetimes.com/author.asp?section_id=36&doc_id=1322110
This is roughly translated driver out foot on brake and then SUA with no ability to stop.