This is Noriko Uno who was killed when her TOYOTA CAMRY sped out of control: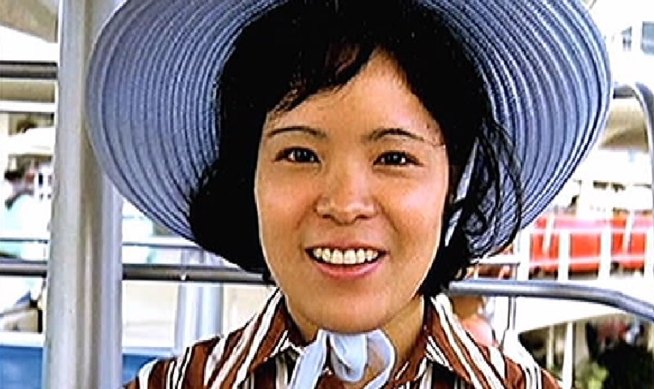 Noriko Uno's 2006 TOYOTA CAMRY:
After being struck by another vehicle, Noriko Uno's TOYOTA CAMRY sped out of control.
FROM:
The Truth About Cars
Mardirossian said Uno was a cautious driver and neither floor mats nor driver error were to blame.
He said
witnesses heard the Camry engine racing and saw brake lights going on and off. Pulling the handbrake had "zero effect,"
Mardirossian said.
"Imagine her strapped into her Toyota Camry driving 100 mph knowing the next move would be fatal,"
he said. "She saved many lives by veering off into that center median knowing that death was near."
The LEMON LADY

has previously posted that a MERCURY SABLE [FORD] prevented additional injury and damage for several reasons.
FORD put a kill switch in the trunk that shuts off the electric fuel pump ON IMPACT.
The LEMON LADY'S MERCURY SABLE

came to rest shortly after impact on someone's lawn.
FORD'S ABS brakes left skid marks across the road, never losing control.
TOYOTA offers NO such protection as these fatal TOYOTA CRASHES seem to prove and beyond that argues TOYOTA is not mandated to do so under federal law.
FORD was not required to do so either, yet FORD's feature protected not only the

LEMON LADY

, but occupants of the home.
Worth reading:
Media protecting Toyota in fatal day care crash
This little cherub is Lily Quintus, killed by a RUNAWAY TOYOTA SOLARA while innocently playing at her day care:
FHP diagram:
KinderCare crash: New details in FHP report
http://mynews13.com/content/news/cfnews13/news/article.html/content/news/articles/cfn/2014/4/16/kindercare_crash_new.html
A Collage of Additional information:
In Memorium: Lily Quintas
Toyota has chosen lie after lie after lie
Easy to ignore....Toyota running scared after Oklahoma
You didn't know them.....
Noriko Uno: Last Minutes Filled With Terror As Toyota Camry Sped Out of Control
Mardirossian argued

Toyota made safety an option instead of a standard by not installing a mechanism to override the accelerator.

He added the automaker also failed to warn customers what to do if an accelerator became stuck.
Toyota defended its vehicles, saying it had a

state of the art braking system

and argued an override component would not have prevented the crash. The company's lawyers said Uno likely mistook the gas pedal for the brake. [Toyota's ploy: Blame it on the driver! Witnesses reported seeing brake lights and the handbrake had been pulled in efforts to STOP Noriko Uno's Runaway TOYOTA as she sped to her death.]
Toyota has blamed the driver, stuck accelerators or floor mats that trapped the gas pedal for the sudden unintended acceleration......

....they argued that brake override was not -- and still is not -- required under federal vehicle safety standards.
Toyota reached the agreement in the case brought by the family of Paul Van Alfen and Charlene Jones Lloyd, spokeswoman Celeste Migliore said. They were killed when their Toyota Camry slammed into a wall in Utah in 2010.
.....the Associated Press has conducted an investigation of its own, finding that Toyota has, for years, blocked access to event data recorder (EDR) information, and that the automaker has been inconsistent in revealing exactly what these devices do and do not record.
Toyota CA Sudden Acceleration Trial: Can you trust Toyota?
"Toyota decided to make safety an option instead of a standard on their vehicles,".....
Consumer Reports recently uncovered NHTSA's log books from 2008 that showed Toyota and Lexus vehicles accounted for over 40% of the complaints about uncontrolled acceleration in 2008 models. That's a significant percentage, especially considering that Toyota doesn't sell 40% of the cars on the market (it sells about 15% of all cars).