...just an American family on an outing....in a RUNAWAY TOYOTA.
An August 28th 2010 crash near San Diego of a Lexus ES 350 sedan driven by the off-duty Highway Patrol officer, Mark Saylor resulted in tragedy.
Mr. Saylor was driving his wife, their 13-year-old daughter, and his brother-in-law on a family outing when their car
"began to accelerate on its own"
and sped out of control despite Saylor's attempts "to apply the brakes and otherwise do everything possible to stop" the car.
The car reached speeds of up to
120 miles per hour
before it struck another vehicle, plowed through a fence, hit a berm and flew through the air, then rolled several times into a field and burst into flames.
The HORRIFYING 911 call and loss of this California family FINALLY forced attention to be drawn to TOYOTA's FAILURES.
After praising itself for $$$$ saved by avoiding RECALLS and ignoring U.S. statutes, the sad loss of the Saylor Family called attention to TOYOTA.
TOYOTA settled cases with GAG ORDERS [confidentiality agreements], silencing public discussion, just as they did in the Saylor settlement....well....except TOYOTA blamed the dealership that removed the silence.
TOYOTA settled the Saylor Family lawsuit for $10 MILLION. You simply don't do that unless you know you're wrong.
You didn't know Noriko Uno. She died trying to stop her RUNAWAY TOYOTA.
This is Noriko Uno's car:
She even pulled the hand brake to stop her car.
This is her family, torn apart by her loss.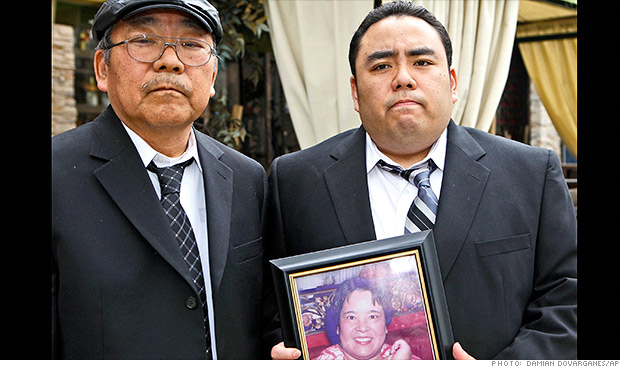 TOYOTA has settled unknown cases to silence families, quiet public queries.
Paul Van Alfen's RUNAWAY TOYOTA:
The crash on Nov. 5 killed Paul Van Alfen, 66, and his son's fiancee Charlene Lloyd, 38; Van Alfen's wife and son were also injured in the wreck. Unlike similar crashes in Toyotas later blamed on drivers
mistaking the accelerator for the brake
, police say
Van Alfen's Camry left skid marks
as it exited Interstate 80 near Wendover, Utah. presumably from holding down the brake pedal. The Utah Highway Patrol said Monday that based on statements from the passengers who survived, the
Camry's gas pedal appeared stuck.
Van Alfen's Camry had been covered by three recalls relating to
sudden acceleration problems
, including floor mats and sticking pedals. While investigators believe Van Alfen had brought his Camry in for the repairs, it's not clear what fixes had been performed. Toyota has also said it was upgrading 2008 Camrys to include brake override systems designed to cut engine power if the brake and accelerator are pressed simultaneously; and once again, it's not clear whether that upgrade was performed.
TOYOTA destroyed the dreams of Paul Van Alfen! Tore apart their family!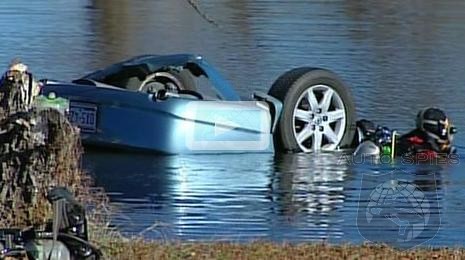 A one-car crash in Dallas, Texas that left four dead the day after Christmas may be yet another incident to punch a hole in Toyota's floor mat interference theory. The four occupants of a 2008 Toyota Avalon died after the sedan inexplicably went off the road, crashed through a fence and landed upside down in a pond. Investigators have already ruled out the floor mats – which were found in the trunk – as the cause.
Reports Of More Toyota Sudden Acceleration Issues Punches Holes In Floor Mat Theory
RELATED: TOYOTA'S ACCELERATION PROBLEM SUSPECTED IN

89 DEATHS
Five of the data records did not record any information from the crash, and in one case, it was found that both the brake and accelerator were pressed at the same time.
Read more:
http://www.nydailynews.com/money/toyota-crashes-investigated-drivers-hit-brakes-preliminary-gov-report-shows-article-1.201801#ixzz2iK2lRugD
It seems to me that buying a TOYOTA is like RUSSIAN ROULETTE.
After awhile, your luck runs out.

Do your research before you BUY!