You buy a toaster.
It's defective!
You return it and are offered a refund or replacement.
Not so with a

LEMON TOYOTA!
You're stuck my friends!
After more than ONE YEAR, Toyota U.S.A. and Route 44 Toyota have DILLY, DALLIED, DELAYED, STALLED and spent more on legal fees, silly motions and nonsense than the value of the

TOYOTA LEMON!
That's their intent!
Rather than correct a KNOWN PROBLEM that other owners have complained about:
BRAKE FAILURES
I made the mistake of believing Toyota Propaganda!
[70% of NEW car buyers don't conduct any research for the 2nd largest purchase they'll make. Please don't be one of them.]
We will never know how many people have been killed or injured by TOYOTA'S SUDDEN UNINTENDED ACCELERATION because some of the claims have been settled with GAG orders.
What we do know is that when the heart-wrenching 911 Call of the Saylor's Family crash was made public, Toyota was FINALLY forced to act.
Uploaded on

Jan 27, 2010
Before Toyota could be bothered to recall 3.8 million Toyota and Lexus cars that they had known for two years had a problem, an off-duty state trooper and three members of his family had to die in fatal car crash when the car accelerated . This is the recording of their 911 call moments before they crashed into the end of the freeway at 120 mph.
'There's no brakes... hold on and pray': Last words of man before he and his family died in Toyota Lexus crash
Noriko Uno ..... and others....Innocent Deaths in Toyota Vehicles?
FROM:
Toyota Table of Contents
WASHINGTON, March 23 (UPI) --
Toyota warned U.S. dealerships in 2002 that Camry owners complained of throttle surges and recommended adjusting the computer
, documents indicted. [sic]
A lawyer with the non-profit Center for Auto Safety in Washington said the technical service bulletin discusses electronics issues -- not mechanical issues raised in the massive recall -- and how the condition was corrected, CNN reported Tuesday.
"If you look at this document,
it says electronics
," attorney
Clarence Ditlow
said. "It says the fix is reprogrammed in the computer. It doesn't say anything about floor mats."
....repair bulletin proves the manufacturer misled the public about the causes of sudden acceleration.
The dealer pleads: "…
Engine revs stick at 6000 rpm without any reason.
This issue occurs without any warning and at random cases. … (there were) two big car accidents in which the drivers miraculously escaped injuries. … the vehicle accelerated in an uncontrolled manner … more than 5 times … the Accelerator Sensor Assembly was replaced. … This issue could cost lives!!"
In another communication, a driver reported a
Tundra zooming to 80 miles per hour, uncommanded, with ineffective brakes.
When the truck was fixed, the technician noted, "short (circuit), insulation defective," and replaced the gas pedal sensor assembly. The same document lists 547 pedal position electronic sensor assemblies that were replaced to fix speed control malfunctions that had been attributed to a mechanical "sticky pedal."
Japan engineers also noted or investigated many varied electronics-related causes of UA and speed control issues. They include short circuits in the pedal position sensor, cruise control, poor wiring connectors, electromagnetic interference (EMI), and voltage irregularities. Numerous times throughout the documents, the electronic Engine Computer Unit (ECU) is mentioned as a possible cause for vehicle behavior that they could not understand.
FROM:
Toyota settles wrongful death lawsuit
Toyota Motor Corp. has settled what was to be the first in a group of hundreds of pending wrongful death and injury lawsuits involving sudden, unintended acceleration by Toyota vehicles, a company spokesman said Thursday.
Toyota reached the agreement in the case brought by the family of Paul Van Alfen and Charlene Jones Lloyd, spokeswoman Celeste Migliore said. They were killed when their Toyota Camry slammed into a wall in Utah in 2010.
.....the Associated Press has conducted an investigation of its own, finding that Toyota has, for years, blocked access to event data recorder (EDR) information, and that the automaker has been inconsistent in revealing exactly what these devices do and do not record.
LEMON LAW
"Toyota decided to make safety an option instead of a standard on their vehicles,".....
Consumer Reports recently uncovered NHTSA's log books from 2008 that showed Toyota and Lexus vehicles accounted for over 40% of the complaints about uncontrolled acceleration in 2008 models. That's a significant percentage, especially considering that Toyota doesn't sell 40% of the cars on the market (it sells about 15% of all cars).
Frank Visconi: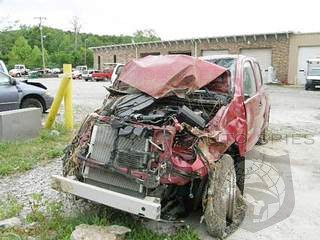 In one such incident Frank ...
www.trucktrend.com
, 1 Mar 2007
[cached]
In one such incident

Frank Visconi

, a retired vehicle theft investigator, was on his way to a

Toyota

dealer to have his new Tacoma examined for sudden acceleration issues he had been experiencing.
As
he
ran up on another car
he
tapped the brakes, but instead of slowing down
Visconi
claims the truck's engine revved suddenly.
He
lost control of the vehicle and jumped an embankment, causing the Tacoma to roll several times before finally coming to a stop.Miraculously,
Visconi
was able to walk away from the incident unhurt.
In the most tragic incident, on the day after Christmas, four people died in Southlake, Texas, a suburb of Dallas, when a 2008 Toyota sped off the road, through a fence and landed upside down in a pond. The car's floor mats were found in the trunk of the car, where owners had been advised to put them as part of the recall."
....Beyond that, more than 200 personal injury cases remain to be resolved in the other MDL. The first bellwether trial had been scheduled for March, but it settled in January on
confidential terms.
GAG!
She began working on Toyota litigation in 2010. Before then, she'd been "oblivious" to the events in the U.S., she says. Slowly she began to notice "odd things" in documents she saw in connection with her role as translator. Revised press releases sometimes obscured important details, she says. Emails among engineers "revealed facts that directly contradicted" Toyota's public statements. Then it got worse. She read reports about runaway cars, including survivors' accounts of crashes that killed their companions. She was deeply affected. A "tipping point" came when she read a document the company had prepared based on complaints filed with NHTSA. "A summary of the injuries and deaths was attached," she recalls, "and it was cynically titled
'Souvenirs from NHTSA.'
" For her, that was it.
After all of Toyota's strategizing, it could not have anticipated how those words would sound to a translator—or what she would do. It was one more thing lost in translation.