Your life is at risk, the lives of your passengers and family are at risk because of the AUTO INDUSTRY FAILURES and COVER-UPS!
Stephanie Erdman.....
WASHINGTON, DC – NOVEMBER 20: Committee Chairman Sen. Bill Nelson (D-FL) (R) holds up a photo of Stephanie Erdman of Destin, Florida, of her face injury by the airbag explosion in her Honda Civic after a traffic accident last year, as Sen. Amy Klobuchar (D-MN) (L) looks on during a hearing before the Senate Commerce, Science and Transportation Committee November 20, 2014 on Capitol Hill in Washington, DC. The committee held a hearing to examine defects in airbags manufactured by Takata and their recall process. (Photo by Alex Wong/Getty Images)
FROM:
Senators Get No Clear Answers On Air Bag Safety
...Schostek acknowledged that Honda violated federal requirements to report deaths, injuries and safety defects to the National Highway Traffic Safety Administration.
Another Phony Baloney Japanese

"deeply sorry and anguished"

after another Japanese COVER-UP....
.....Hiroshi Shimizu, Takata's head of quality, said the Japanese parts supplier is
"deeply sorry and anguished"
about each instance of air bag inflators not performing as designed.
....senators were stymied by what they considered evasive answers from Takata, Honda and Chrysler executives. And they suggested a cover-up by Takata, which reportedly conducted secret tests of the air bags in 2004.
Sen. Claire McCaskill, D-Mo., whose Commerce subcommittee investigated the General Motors ignition-switch debacle, saw echoes of that in the air bag problem now under scrutiny.
She noted
"an industry that fears no consequences from not complying with the law" and a federal regulator lacking the resources and expertise "to properly do its job."
...Shimizu said he was first told in 2005 about the problems, but said Takata did not inform NHTSA at that time. Takata conducted an investigation of the defects in 2007, he testified.
Hien Thi Tran lost her life because of an

EXPLODING TAKATA AIRBAG

...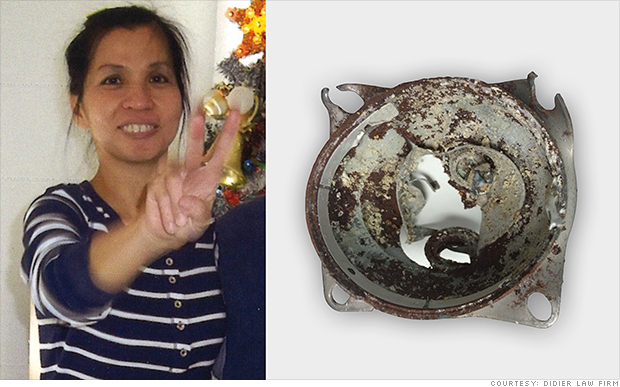 Takata Air-Bag Rupture in Japan Test Signals More Recalls