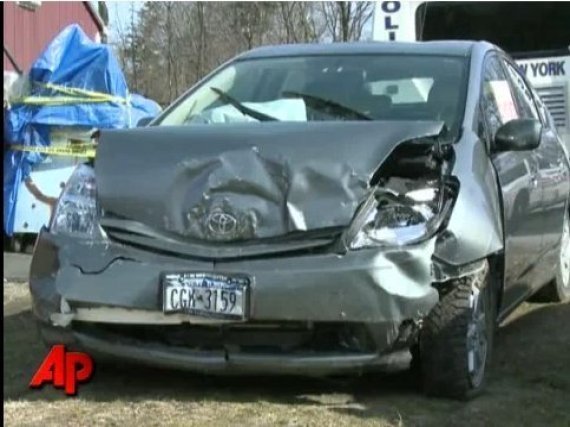 UPDATE:
So the car went in for its 'diagnostic check' today. It was
always going to have been an interesting day. I just didn't realise HOW i
nteresting it was going to turn out!
Background:
I spent the last week trying the reproduce the SUA with no success. I even found an old spare car mat and doubled up on the existing mat (secured with cable ties) for a few days just to test out Grumpy's experience, as he is the only person who has posted an experience like mine.
I also tested out all several situations of shifting from
Drive to Neutral to see if I could get the yellow triangle and alarm to come
on. Tried it while accelerating briskly, while accelerating in Cruise Control
and also with 'Resume' on C.C. Same result each time – the car just 'pips'
once, no alarm and no yellow triangle.
Today, I prepared the car as I always do before a service. I emptied it of all contents; checked the mat again and took a reading on the trip meter, before driving it to Jemca.
At the Garage:
I decided my best strategy was to focus on the problem with the yellow triangle & alarm, which I said happened when I shifted from Drive to Neutral. Then, when asked why I was doing that, I *first*
explained that I was an experienced Prius driver who really
believes in these cars, but I had experienced some unexpected events and then
went on to describe the SUA; including the fact that one of them was experienced by another driver, so not just me. I could sense that this was not going down well....
End of the day:
So I get a call that the car is ready for collection…..
The good news:
a ) they have taken the opportunity to fix the recent recall issue.
b ) all diagnostic checks are clear and they cannot find any problem with the car. (I think we all expected this!)
The bad news:
c ) they tell me that when they found the car, one side of the drivers mat had come off its clip and the whole mat was found rotated and slipped under the accelerator!
You all know from my previous postings how aware I was that the mat is always to be blamed first. The journey to the garage was 4.6 miles. I had checked the mat obsessively over the last 2 weeks *and* before I left the house. There was *no way* I would have left the mat in a position like that, let alone without realising it!
d ) they tell me that they took the car for a good test drive and nothing happened. I checked the reading on the trip meter when I got home. The round trip was 9.2 miles. That test drive would have been less than the measurement error of 0.1 miles!
e ) they then tell me that I should not have shifted the car from Drive to Neutral. They say a 'senior engineer' has looked into this and you 'always' get an alarm and yellow triangle if you shift to Neutral when driving! They then 'advised' me not to do this again. I said I had been testing this extensively over the previous weeks and then explained what I found normally happens when you do. The service rep said, 'well I hear you say one thing, by my senior engineer is telling me something else'.
Summary:
So there you have it. Good news is that I can now reassure my mother-in-law that the car has been *fully* tested and there is *nothing* wrong with it (she was a passenger for two of these events, one with me driving, the other when my wife was driving)!
Sad news is that (going in with *absolutely* no intention if picking a fight, and actually asking for help) I now realise what it feels like to come up against Corporate Toyota! They certainly DO NOT want to know!
http://www.toyotaownersclub.com/forums/topic/158898-sudden-unintended-acceleration-events-prius-gen-3-2011-model-in-uk/page-2