Is Toyota Telling the Truth About Sudden Acceleration?
Toyota says its problems with sudden unintended acceleration are in the rearview mirror, but newly disclosed documents raise questions that experts say have not yet been answered.
David Hechler
, Corporate Counsel


I am a statistic waiting to be reported!
This morning March 26, 2013 I experienced the FIFTH OCCURANCE [sic] of sudden acceleration. Each time I was STOPPED either at an intersection or waiting for a red light when the engine revved to over 8,000rpm's. My foot was on the brake and no I did not have floor mats other than factory supplied. The dealer has been sympathetic but since he "Can not duplicate" the event then "Obviously" there is nothing wrong with my Avalon.


While the article may document bad policies, procedures, and perhaps ill-will at Toyota, nothing in my scan of the article suggests that Toyota has successfully covered up a problem with the electronics, unless, of course, one of the options above applies.
Ok... if the electronics were a significant part of the problem, then why have the reports of sudden acceleration in Lexus models stopped? Has the press lost interest? Have the attorneys stopped picking up the phone calls from affected owners? Has Toyota actually fixed an EMI problem on the sly, coming to all owner's homes at night with a repair kit?


I am a lawyer, but I do not represent either side. I have worked on these issues since late 2009; and I have dealt with many of those who have tried to ferret out the truth, which Toyota has done its best to bury.

See http://naegeleblog.wordpress.com/2010/01/04/toyota-and-lexus-vehicles-are-unsafe/ ("Toyota And Lexus Vehicles Are Unsafe") (see also the extensive comments beneath the article)

What Toyota has done is a travesty. The company has engaged in probably the biggest cover-up in global business history, and it deserves to pay a very heavy price for it, including a worldwide boycott of Toyota and Lexus vehicles. Nothing less will suffice.

The lawyers on both sides of this fight have enriched themselves, but they have not ferreted out the truth nor served the public good!
This is a truly excellent article. David Hechler deserves great credit and congratulations for getting the story right.

No matter how it all concludes, the questions about how our society will deal with the clash of commerce and advancing science linger. When money is at stake regarding valuable scientific discoveries, who is responsible for the deaths that result? What is to be done for the uninformed consumer who is the victim? How important are people when great amounts of business and therefore money, clash, resulting in human sacrifice?
Questions for the ages and still no easy answers...but these questions keep coming up.
There are some 300 product liability law suits waiting to be tried or settled. It will be interesting to watch this lengthy process unfold as these cases are moved forward by the Courts. Which will Toyota settle and which will they try? What information about the company and their revenue or costs, related to this defect, will be revealed?


"NHTSA has investigated alleged unintended accelerations many times over many years and has concluded that driver error is the predominant cause of these events/"

The key phrase in this statement is "predominant cause." By using it, Ford acknowledges the existence of other causes, including flaws in the vehicles' incredibly labyrinthine electronics systems. Drivers have no control whatsoever over defects imbedded [sic] in their cars' designs. The simplistic "driver error" catch-all, a favorite with manufacturers and even NHTSA when vehicle defects are at issue, simply won't wash.

As long as doubt exists as to the role of electronic-system glitches in causing crashes and their injurious outcomes - and as this article makes clear, doubt abounds - NHTSA is duty-bound to continue its investigations and refrain from declaring, as DOT Sec. LaHood did of the Toyota SUA issue, "The verdict is in and there is no electronics problem."

The verdict isn't close to being in and the problem can't be made to go away by wishful thinking or semantics sleight-of-hand; LaHood, who will shortly leave DOT, has bequeathed it to his successor, whoever that may be.
In this excellent and comprehensive examination of problems related to Toyota's SUA failures and NHTSA's questionable treatment of those problems, Ford Motor Company is quoted as follows:
Read more:
http://www.corpcounsel.com/id=1202591531416/Is-Toyota-Telling-the-Truth-About-Sudden-Acceleration#ixzz3AmgjIyHU
Ya buy a defective product, the manufacturer repairs or replaces it!
Not so with the AUTOMOBILE INDUSTRY!
Once upon a time, Ford screwed up BIG TIME!
FORD produced the PINTO....the GAS TANK EXPLODED!
FORD ignored complaints....the problem was white-washed, much as the TOYOTA problems have been....drivers and passengers were killed or injured....
When enough people were burned to death, FORD was forced to recall the PINTO and modify the gas tank.
In this space, a few victims of TOYOTA'S SUDDEN UNINTENDED ACCELERATION have been posted, names and faces, along with their crumpled or burned TOYOTAS.
This little charmer is Lily Quintus, killed by a RUNAWAY TOYOTA SOLARA that crashed through her Day Care Center....skid marks were left as the driver attempted to slow his RUNAWAY TOYOTA.....
This is Noriko Uno....doesn't she look like a nice lady?
Noriko Uno tried to stop her RUNAWAY TOYOTA.....
This is the loving family Noriko Uno left behind....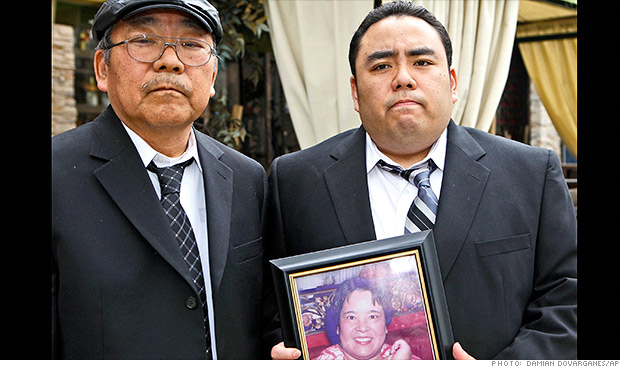 This is
John and Diane Biello of Rehoboth.....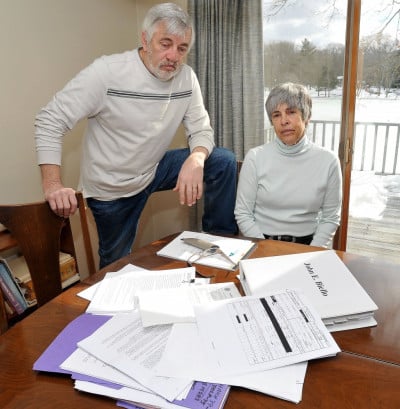 ...this is what they survived.....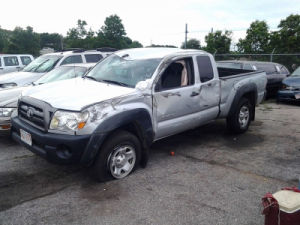 This is the Lexus RX 350 that belonged to Hyekyong Lee.....
You didn't know them.....
The crash on Nov. 5 killed Paul Van Alfen, 66, and his son's fiancee Charlene Lloyd, 38; Van Alfen's wife and son were also injured in the wreck. Unlike similar crashes in Toyotas later blamed on drivers
mistaking the accelerator for the brake
, police say
Van Alfen's Camry left skid marks
as it exited Interstate 80 near Wendover, Utah. presumably from holding down the brake pedal. The Utah Highway Patrol said Monday that based on statements from the passengers who survived, the
Camry's gas pedal appeared stuck.
Van Alfen's Camry had been covered by three recalls relating to
sudden acceleration problems
, including floor mats and sticking pedals. While investigators believe Van Alfen had brought his Camry in for the repairs, it's not clear what fixes had been performed. Toyota has also said it was upgrading 2008 Camrys to include brake override systems designed to cut engine power if the brake and accelerator are pressed simultaneously; and once again, it's not clear whether that upgrade was performed.
This is Mark Saylor's family....they look like a nice family....they lost their lives when their OUT-OF-CONTROL TOYOTA LEXUS caught on fire on impact.....TOYOTA settled for

$10 MILLION

with a GAG ORDER [confidentiality agreement].....
Koua Fong Lee went to prison because his OUT-OF-CONTROL TOYOTA killed 3 people....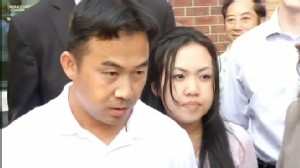 Did TOYOTA step up to the plate? Of course not!
There are more....many ...many more.....what is the number of injuries and deaths that will force TOYOTA to correct their problems....or attract public attention?
Good thing TOYOTA doesn't make toasters.....they'd be out of business by now because of their DEFECTIVE PRODUCTS....
Let's not forget those who sacrificed their lives because of TOYOTA!
just my opinion....at the moment....